History in the Mountains
About Our Home
What is now Almost Heaven Bed and Breakfast, once was owned by James Massie, a prominent business man of Waynesville's. Mr. Massie was the owner of many businesses including The Strand movie theater, currently still in operation, and The Park, a live theater. Many celebrities such as Randolph Scott, Roy Rogers, Lester Flatt, Gene Autry and Earl Scruggs stayed at Mr. Massie's home while pn promotional tours in the area.
The house still has the original panelled wainscoting, French doors, Heart of Pine floors, wooden staircase and banisters, and grand fireplaces with brick arched openings.
Located in the town of Waynesville, NC with privacy and a quiet setting overlooking the elevated mountain views. It is one of the closest bed and breakfasts to Main Street shops, galleries and restaurants.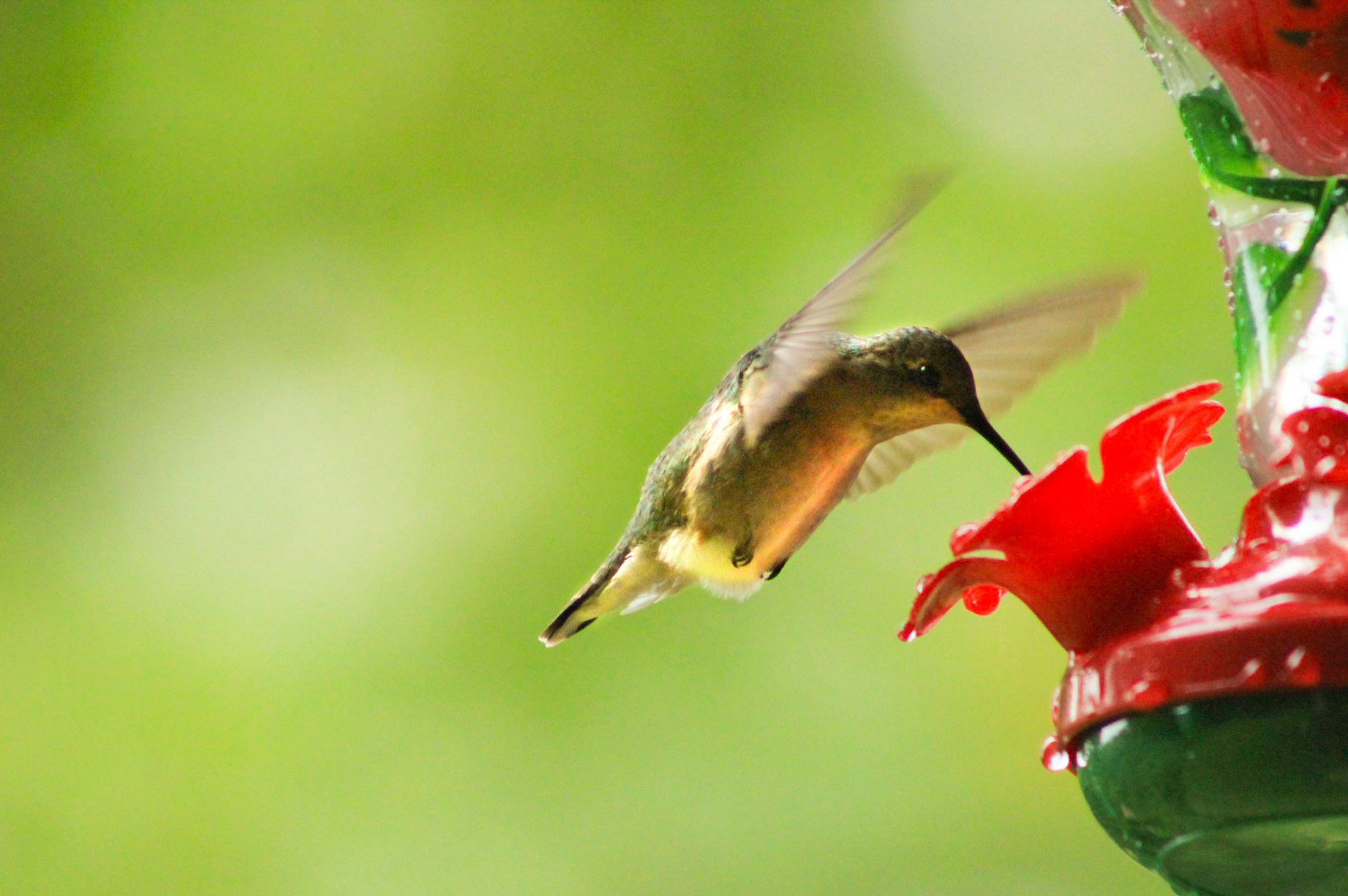 Our Story

Patti, originally from Wisconsin and a retired nurse, along with her husband Rob, from Michigan and a retired law enforcement officer, moved from Florida to North Carolina in May of 2017. Not quite ready for full retirement, they decided to buy this old historic home and begin renovations to turn it into what is now Almost Heaven Bed & Breakfast. They both have served the public in their previous professions, but now they are beyond excited to be serving in a different, a more relaxed way.
Patti and Rob have always had a love for the mountains, and enjoy hiking the Appalachian Trail (The AT). Rob has hiked many sections of the AT with a dream of someday completing the entire trail.
Patti has always had a passion for collecting antiques. It began as a child when her dad would take her to auctions and estate sales. Both of her parents were avid collectors and many of the antiques they have displayed in the B&B are family heirlooms.
Once their four children were grown, they knew they wanted to change the pace of their lives. Hence, they moved to Waynesville and began their new path of Bed and Breakfast owners. It has made their hearts swell being able to decorate their new home with antiques they have been collecting with each other for more than 20 years.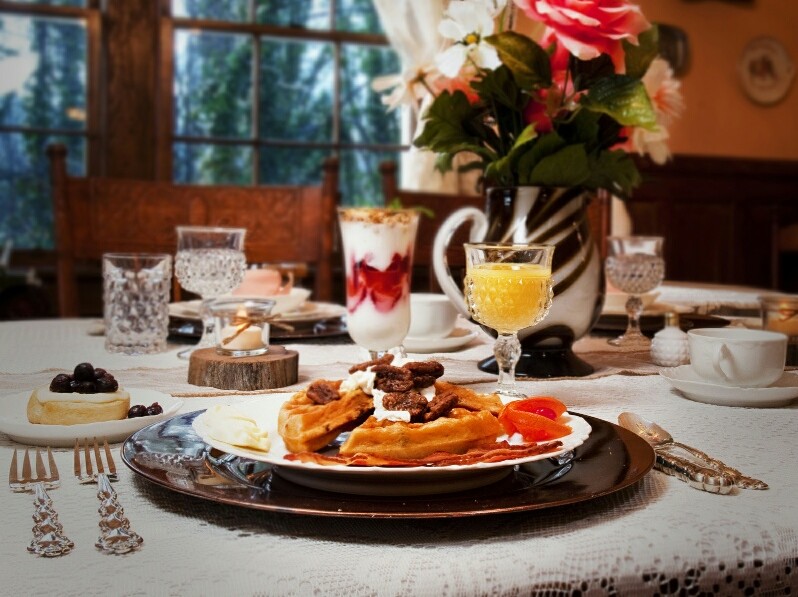 Our Breakfast and Refreshments

Breakfast
When you book your stay with us at Almost Heaven Bed & Breakfast, one of our greatest joys is serving you breakfast. We pride ourselves on a three course, country gourmet style menu with lots of flavor and love. It's the meal to start your day in the mountains off the right way.
A three course Breakfast is served at a single-seating at 8:30 am daily.
Coffee and tea available at 7am in the dining room.

Guests may choose to enjoy their breakfast:
In our dining room
Outside on our covered deck while taking in the mountain views
Outside on our Bistro table amongst the flowers
In their bedroom at an additional cost of $10.00 per person. A 24 hour notice is required, limited availability. Breakfast will be served in room at 9:30am.
* All attempts will be made to accommodate any special dietary needs, allergies, and or diet restrictions with a 24 hour notice.
* For our quests who must leave early and unable to dine with us, a To-Go Bag Breakfast is offered, at no additional cost, with a 24 hour advance notice.
Refreshments
Refreshments will be served daily at 3pm in the dining room.
Samples are:
Cheese, fruit and crackers
Freshly baked pies, cakes, cookies, or brownies
Pretzels with Dip
A 24 hour Guest Pantry, located on 1st floor, is stocked with:
Fridge and microwave
Soda and water
Popcorn and snacks
Keurig coffee maker serving coffee, tea, and hot cocoa
Each Guest Bedroom comes with a Welcome Basket filled with:
2 bottles of water
Snacks
Toiletries
A local restaurant guide
Local magazines
Testimonials
"Last month my husband and I had the pleasure of staying at this beautiful historical Bed and Breakfast for 4 days. From the minute we arrived to walking out the door on our last day, we felt pampered and treated like family. We had an early flight to catch, so we were given breakfast in a bag from our gracious hosts. The other mornings we were served delicious three course breakfasts in a gorgeous dining room. The hosts have loving restored the place with many family heirlooms and with stories behind each. We stayed in the Fall room and it was beautiful and the bed was so comfortable. We even had turn down service each night. We were also given many ideas on what to do, such as hiking waterfalls, antique shopping and breweries for beer tasting. We highly recommend this place, you will not be disappointed. We will be back for sure!"
~ Kathy Lohr, April 20, 2018

"I Came here for the soft opening with my family and had an amazing time! My husband and I stayed in the spring room and loved it. The whole house is beautiful with amazing details and the food is mouth watering. Owners/hosts are very friendly and you can tell they put a lot of work into making this the best bed and breakfast to stay at in the beautiful mountains of Waynesville, NC."
~ Amy Jones, April 21, 2018
"Amazing hosts and amazing location! Definitely a place I could see returning to again. There are also plenty of things to do in the area if you like to explore."
~ Kyle Jones, April 21, 2018
"Had the pleasure of staying at this newly remodeled bed & breakfast a few weeks ago. The food & entire stay was great! The owners worked together preparing and serving an excellent breakfast each morning. There is an outdoor seating area where you can sit and rock in the rocking chairs and take in the beautiful view of the mountains. They gave us recommendations of lots of fun things to do around the city. Bedroom & bathrooms were very clean & tidy. Lots of fun antiques to look at throughout the home. Will be returning!"
~ Julie Lohr, April 19, 2018