Downtown Waynesville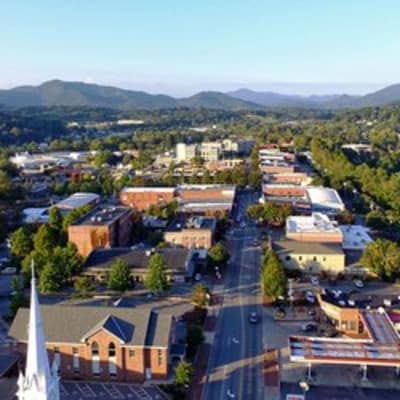 Downtown Waynesville is a must see while you are here. Complete with galleries, boutiques, restaurants, eclectic one of a kind gifts and souvenir shops and breweries. You could spend an entire afternoon walking the streets of downtown Waynesville on Main Street, Frog Level historic district and Hazelwood.
Art & Galleries
Blue Owl Gallery
May - Nov - 1st Friday each month - "Art After Dark" - Downtown galleries remain open until 9pm. Artist's receptions, demonstrations, and musicians.
Gift & Specialties Shops
828 On Main Market
Mountain Favors
Chocolate Bear
Affairs of the Heart
Mountain Quilts
Olde Brick House
The Station On Main Street
Corner Station Olive Oil Company - Frog Level
Furniture & Accessories
Antiques
The Nest Antiques
Big Red Barn Trading Post & Antiques
Depot Village Antiques - Frog Level
Food & Drink
Bakeries & Coffee Shops
Antiquing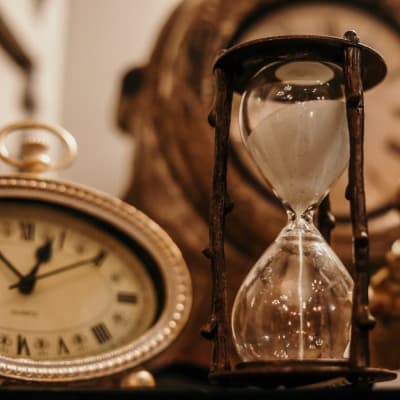 Antique Stores all within 5 miles of our Bed & Breakfast
Entertainment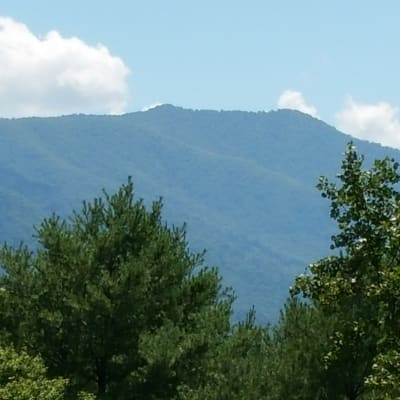 There are so many things to do when you visit Waynesville and the surrounding areas, it can be difficult to know where to start. You'll want to keep these popular attractions at the top of your list:
EVENTS:
"Art After Dark" - May thru Nov - 1st Friday each month - Downtown galleries remain open until 9pm. Artist's receptions, demonstrations, and musicians.
"Friday Night Street Dances" on Main Street in front of the old Court House. Occurs every other Friday June thru August at 6:30pm. Enjoy the area's finest bluegrass musicians, bands, and clogging teams.
"Church Street Art & Craft Show" - 2nd Saturday of October 10-5pm on Main Street. This 35 year old festival is known to be one of the finest one-day juried art show in the region. Art & craft marketplace, food & drink, 2 stages of live mountain music, clogging teams, entertainment and more.
"Apple Harvest Festival" - 3rd Saturday of October 10-5pm on Main Street. This annual Apple Festival is a celebration of the autumn harvest and Haywood County's agricultural heritage. Countless booths of fresh apples, tarts, caramel apples, ciders, jewelry, pottery and yard art with live dancing, crafts, and old-fashioned games make this event fun for the whole family.
"Treats on the Street" - A safe way to trick-or-treat on Main Street starting at 5pm and followed by a Fall Festival held at First Baptist Church of Waynesville located at 100 S. Main Street. Over 1,000 attendees every year. Come see children and adults alike dressed in their favorite costumes.
"Tree Lighting Ceremony" - Last Friday of November located at Oak Park Inn - tree lighting and activities for children. Hot chocolate and cookies will be served.
"All Through The Town" - Dec 1-31. Holiday happenings all month in downtown businesses.
"Christmas Parade" - 1st Monday of December at 6pm on Main Street
"A Night Before Christmas" - Saturday following parade. 6-9pm. Step back into yesteryear and experience a holiday tradition in Downtown Waynesville with live music, caroling, Bethlehem Market Place, Live Nativity complete with animals, free old-fashioned wagon rides, luminaries, and of coarse Santa and Mrs Claus.
Breweries, Pubs, Distilleries, and Vineyards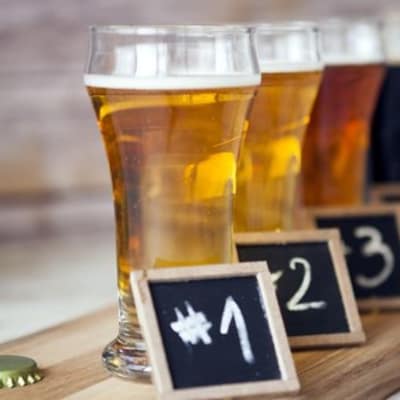 We have four breweries and one liquor distillery in Haywood County. Two of our breweries are in Waynesville, one in Maggie Valley, while the 4th sits in Canton, right along the Pigeon River. Our distillery is located in Maggie Valley, about 15 minutes from our B&B.
Breweries
Distillery
Pubs - all within walking distance of our Bed & Breakfast
Vineyards
The Blue Ridge Parkway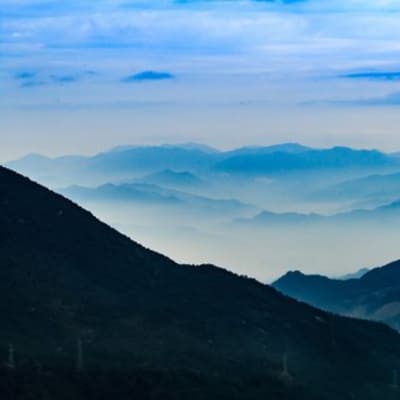 The Blue Ridge Parkway is one of our communities biggest tourist attractions. The southernmost stretch of the Parkway is located 5 miles from Waynesville, and contains the highest peaks on the Parkway. Climbing to more than 6,000 feet in elevation, this day trip will give you unlimited breathtaking views and easy to moderate to intense hiking trails.
Entrance onto the Blue Ridge Parkway is at milepost 433.1 located in Waynesville.
Golf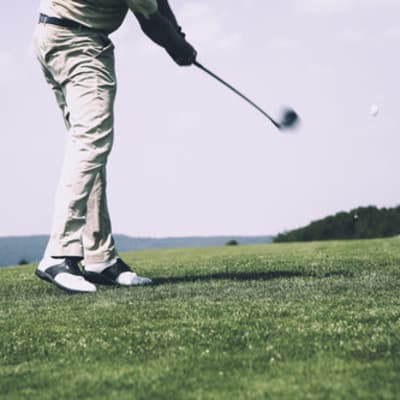 People love coming to the mountains just to golf our gorgeous courses. Golfing in WNC includes panoramic views from elevated tees, the challenge of golf holes that run uphill, downhill, and side hill, and putting on greens that are sometimes etched around mountain streams and lakes. If golf is something that you love, make sure you check out one or all of our courses in Haywood County.
Lake Junaluska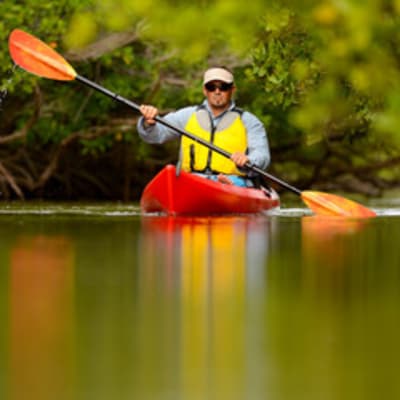 Canoe, Kayak, and Paddle Board Rentals
Lakeside Outdoor Swimming Pool
Lake Junaluska Aquatic Center
Explore the nearby beautiful Lake Junaluska. This calm water lake has an approximate 3 mile perimeter lined with beautiful houses. Fish right from your kayak or just take in the view of the distant mountains. You might even be able to spot the lakes' resident white swans.
Have your own kayak or canoe? No problem. Lake Junaluska has a public boat launch.
Also nearby are tennis courts, mini-golf, shuffle board, and walking trails.
White-water Rafting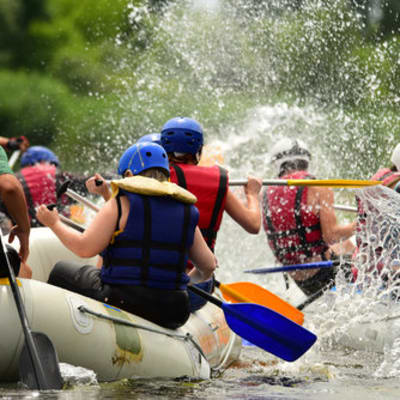 White water rafting in the mountains? What an incredible experience to have while you are here. Pick from an easy float to exhilarating Class IV rapids. Here are some nearby outdoor companies you may consider.
Waterfalls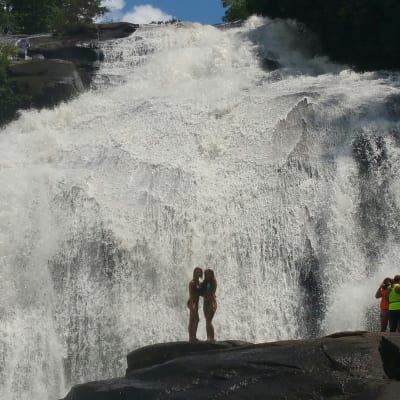 One of our favorite past times is to hike to a waterfall. The following are our favorites and are less than 30 miles from our Bed & Breakfast.
Picture taken at High Falls in Dupont State Forest
Wildlife Viewing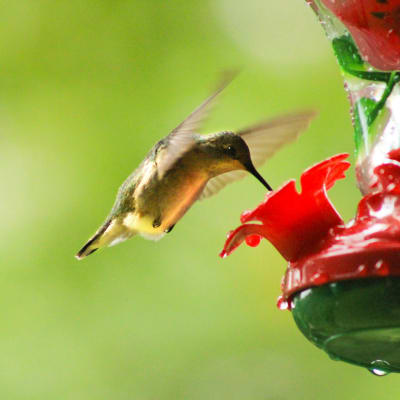 Come sit for a spell on our covered deck and listen to nature and view the wildlife. We even provide binoculars and a bird identification book for those bird enthusiasts.
Some of the animals viewed right on the grounds of Almost Heaven are:
- Brown Bear
- Red Fox
- White Tail Deer
- Hooded White Skunk
- Woodchuck
- Chipmunks, Raccoons, Rabbits, Squirrels and Flying Squirrels.
Several different species of birds have been identified eating at our many bird feeders located throughout our property including:
- Ruby Throated Humming Bird
- Eastern Towhee
- Downy Woodpecker
- Rose-breasted Grosbeak
- Red-bellied Woodpecker
- Pileated Woodpecker
- Blue Jay
- House Finch
- House Wren
- Song Sparrow
- Carolina Wren
- Purple Finch
- Northern Cardinal
- Brown Thrasher
- Mourning Dove
- Carolina Chickadee
- White-breasted Nuthatch
- Tufted Titmouse
- Gray Catbird
- American Goldfinch
So, whether you are an avid bird watcher or just want the peace and quiet only nature can provide, come to our Bed & Breakfast and experience why this is "Almost Heaven".
Guest Recommendations